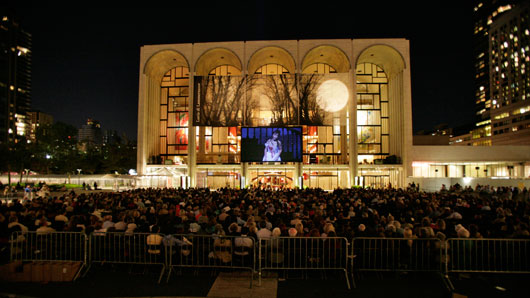 Opening night at the Met, 2007-08 season


Okay class, pay attention. Here's today's business problem:

It's 2006. You're hired to run the largest performing arts organization in the world, a 125-year-old household name. Every year, you stage over 200 performances per year of a couple of dozen different operas. Your performances are heard by millions of radio listeners around the world. And until the year 2000, your ticket was the hardest to score in New York City.

But in the last six years, everything's gone awry. Attendance has declined sharply. Costs have risen every year. Philanthropic contributions have flattened out. The endowment is woefully inadequate. Competition for the cultural dollar is soaring. There are signs of organizational complacency. And even though your audience is disappearing, you have no marketing organization in place to try to offset the decline.

What to do? Can anything be done? Is there a solution?

Well, in fact, this would indeed make a splendid business-school case study. And a much more interesting one than the run of corporate cases that MBA students are challenged with.

The dire situation outlined above is not hypothetical; it's real. It's what faced the
Metropolitan Opera
just two years ago. A little background:

In the 1990s, the Met essentially sold out the house every night. The 4,000-seat theater was filled seven times per week for over thirty weeks per year. Every night a different opera. Costs rose every year, but they were offset by the ability to raise ticket prices with impunity. Philanthropy was healthy, so the lack of a healthy endowment was not an issue. Also unimportant was the lack of a marketing team -– no need to create demand when almost every performance sells out.

Then came the millennium, and everything changed, and for the worse -– attendance, philanthropy, competition, subscriptions, and the bottom line. There are a lot of reasons for this collapse. For the Met it was a virtual perfect storm. Early in the decade, a recession began. Then 9/11 rocked the world. This tragedy, in turn, adversely affected travel, cutting down sharply visits by domestic and international opera-goers.

Customers began to resist the high price of attending an opera. And changes in lifestyle caused the subscription rate to fall -- less planning in advance, more spontaneous ticket-buying. As subscription-ticket sales fell, they had to be offset by single-ticket purchasers; single-ticket sales require expensive advertising campaigns. The aging audience was not being replaced by younger attendees. And the standard repertory of familiar operas by Verdi, Puccini, Mozart, et al., could no longer be counted on to fill the house automatically, at least not without megastars singing the major roles.

Moreover, this century-old dowager was getting a little dowdy, a little ragged around the edges, a little stodgy, and reluctant to change with the times. Then, in 2004, its longtime general manager, Joe Volpe, announced his desire to retire within two years.

The Met board, of which I was a member at the time, initiated a search for a new general manager, and I was appointed chairman of the search committee. (I retired from the board last year, but continue to serve as chairman of the marketing committee.) After a seven-month search, we selected
Peter Gelb
, former CEO of Sony Classical, as our choice to manage the Met, and the full board unanimously approved our choice.

Gelb served a year and a half as general-manager designate, working closely with Volpe, and then officially began running the show at the start of the 2006-07 season. (The seasons run from September through May.) Because operas are planned as many as four years in advance, the programming and total impact of the new administration will not be fully realized until the 2009-10 season. Yet starting with his first season, some changes were able to be made to the repertory –- a few new productions shoe-horned in, a director change here, a new singer there, a set designer change here. This process continued into the just-ended 2007-08 season, and more changes will be realized next year. By 2009-10,Gelb and his team will have full responsibility for the entire season's repertory –- as well as for the overall results of the organization.

Although Gelb had never run an opera house before, he knew a lot about dealing with artistic talent (having spent a large portion of his career in artists' management). But what really appealed to the selection committee and to the board was his marketing flair. And if ever an organization needed marketing, it was the Metropolitan Opera. Here's why:


Decline in the box office:
We enjoyed virtual sold-out houses (blue bars) in the 1990s. Then, beginning in 2001-2002, the box office dropped steadily, bottoming at 77% of capacity (orange bars) in 2005-06.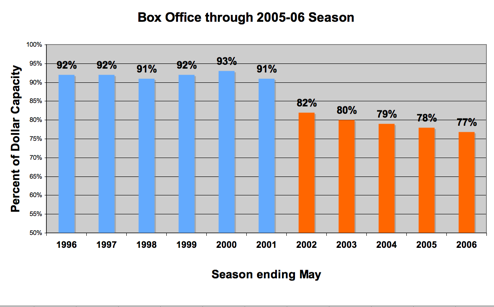 Decline in sell-outs:
The house was no longer selling out at it was in the 1990s. By 2006, only 10% of the performances sold out.


Subscription decline:
As a final measure of the deteriorating situation, subscription growth had turned negative. For four straight years through 2005-06, the number of full-series subscribers declined. This meant that more effort had to be poured into selling single tickets, with the requisite additional advertising costs.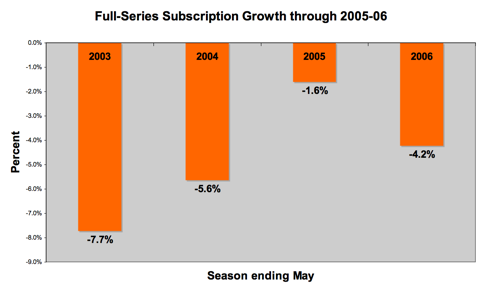 Turning the battleship around


To turn the ship around – i.e., fill the house -- three major initiatives were undertaken: (1) improve the product, (2) create a major marketing effort, and (3) add new sources of revenues and audience development.


(1) Improve the Product


The Met product has always operated at a very high artistic level, and particularly on the musical side. But there was still room for improvement on a variety of fronts.


Singers
: Stars sell. The Met has always attracted the biggest stars in the world, but often they wouldn't agree stay for the entire run of an opera series. A diva might perform in two or three performances of an eight-performance run. Then, a less-compelling replacement would fill out the run. That is changing. More of the world's best artists are now being signed to appear in more operas, and in more appearances per opera.

In return, the Met is beginning to actively promote the stars. For example, in the last two seasons, the images of superstars Anna Netrebko and Natalie Dessay were featured all year in advertising, brochures, tickets, bus signs, telephone kiosks – you name it, their faces were all over New York City. Next season will be Renée Fleming's turn.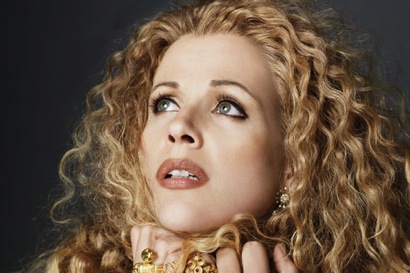 Ren
ée Fleming
Directors and set designers and costumers:
To enliven the visual experience, the Met is hiring more directors from the theatrical and film worlds. For example, Anthony Minghella (Madame Butterfly), Bartlett Sher (Barber of Seville), Jack O'Brien (Il Trittico), John Doyle (Peter Grimes), Mary Zimmerman (Lucia di Lammermoor) and others have already directed operas in the last two seasons. Similarly, imaginative new set designers and costumers are being hired to help make the visual impact as exciting as the musical experience. Look, for example, at the spectacular visual effects from the recent Satyagraha production: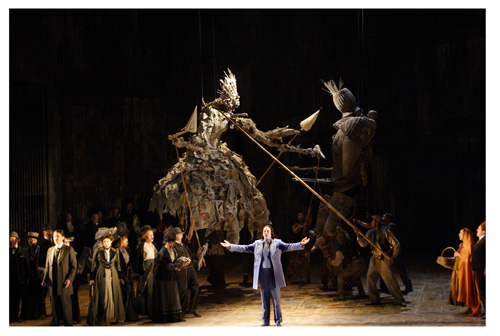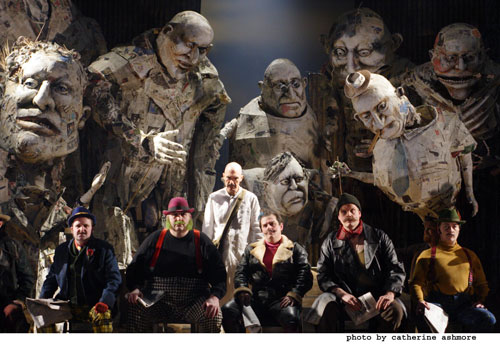 Satyagraha scenes, 2007-08 season
Acting
: Concomitant with the above changes, more attention being paid to the acting side. There is a palpable movement away from overweight, immobile singers who "park and bark" to those whose acting ability is commensurate with their singing talents. Anyone lucky enough to have seen Natalie Dessay in La Fille du Regiment saw one of the great comic acting performances of our time. Or Anna Netrebko in any of her performances of the last two years that combined her incredible vocal talents with an astonishing theatrical capability.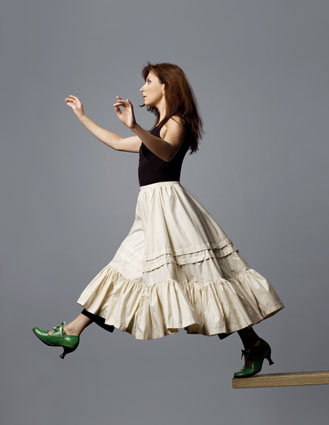 Natalie Dessay
Conductors
: Other initiatives include the hiring of more world-class conductors to perform when the Met's music director, James Levine, is not in the house. Levine conducts only 50 or so performances per year, leaving 170 or so to be handled by other conductors.

It's important to note that all this is being done
without
sacrificing the artistic mission of the Met. It would have been easy, for example, simply to program a full season of audience pleasers and ignore the more obscure or contemporary or challenging works that are so hard to sell. But the Met always has presented, and will continue to present, a complete spectrum of great opera, a range that includes contemporary works as well as less familiar older ones.

But contemporary and obscure operas could be a financial disaster unless a sophisticated marketing effort were in place to create demand. These days, it's no longer financially acceptable to tolerate a half-empty house for a less-accessible work, as has been the case for many years. So that's what leads us into the next major initiative – marketing.


(2) Create a Major Marketing Effort


Rule One of marketing is, Great marketing starts with a great product. Rule Two is, See Rule One. As noted above, the overriding effort of management is to make the
entire
opera experience better than it has ever been. Once that has been achieved, marketing can go to work and help fill the house. But if the product isn't any good, no amount of marketing can make it succeed. As Bill Bernbach, the founder of legendary advertising agency Doyle Dane Bernbach said, "Good advertising makes a bad product fail faster."

Until two years ago, the Met was essentially a marketing-free organization. How that has changed! A first-class department has been created, with the advertising and public relations efforts revivified, and the website upgraded. The upshot is that the list of new marketing initiatives in the last 24 months is almost endless: Times Square opening-night live telecasts, opera sets displayed in Saks Fifth Avenue windows, red carpet opening nights, free opening-performance dress rehearsals, creation of an art gallery, and Met signs and banners and posters everywhere.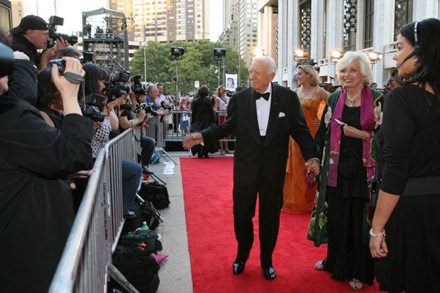 Walter Cronkite on the opening-night red carpet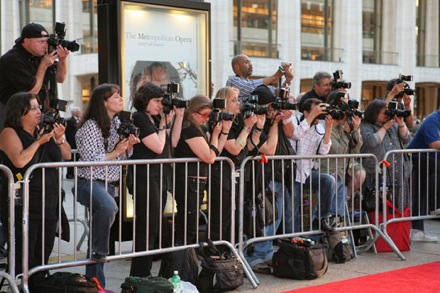 Paparazzi out in force -- this is the Met?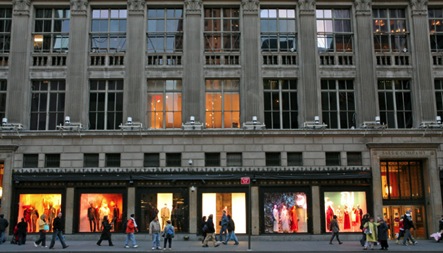 Replicas of Met Opera sets at Saks Fifth Avenue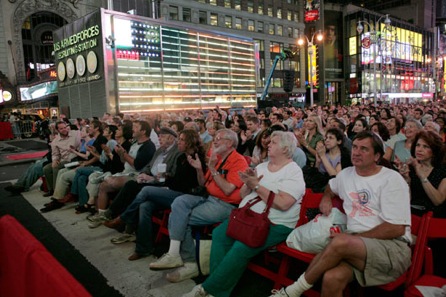 Opening-night audience -- live at Times Square
Gallery Met
was opened in a corner of the Met lobby to display commissioned as well as existing works by artists who have been recruited to forge a close relationship with the Met. The hope is to rekindle an alliance between the performing and visual arts. At one time David Hockney, Marc Chagall and other artists were involved in set design for the Met. Perhaps one day some of the artists now exhibiting at Gallery Met will contribute their talents to new productions.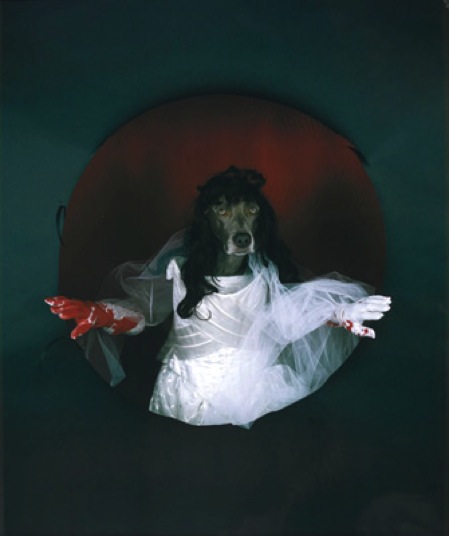 William Wegman Polaroid rendition of Lucia de Lammemoor


An example from the past season, the marketing of Satyagraha, illustrates how inspired marketing can work. Philip Glass's work is, for many, an acquired taste. If you add to that hurdle the fact that the Satyagraha libretto is written entirely in Sanskrit and that Met Titles are not used during the performance, it provides a marketing challenge of the highest level.

As the 2007-08 season began, here's what happened: Seven performances of Satyagraha was scheduled for the spring of 2008. Many subscribers who found Satyagraha included in their series decided to opt out of the Glass opera -- they traded in their seats for other operas. And single-ticker buyers turned out to be equally cool to the prospect of watching a Sanskrit work. Normally, as a season progresses, single-ticket sales start out filling up the house. But a funny thing happened in this case. The forecasted box office of Satyagraha started
declining
, and at an alarming rate. The more time that passed, the worse the box office ahead looked. If this continued, there was a chance the opera would play to near-empty houses.

So a marketing task force was put together. For a modest budget, aided by contributions from a board member, the team was able to create dozens of different marketing initiatives designed to attract specialized audiences. New-age magazines yoga groups, anti-apartheid organizations, India groups, South African organizations, et al.

It worked. By the end of its run, Satyagraha had
sold out
its run. (By the way, it was a terrific production. I like to quip that Satyagraha is now my favorite Sanskrit opera.) Next year, the same team will have an opportunity to apply its narrow-focus marketing techniques to selling the John Adams opera, Doctor Atomic -- a contemporary work about the creation of the atomic bomb.


(3) Generate New Sources of Revenues and Audience Development


The final and most exciting major initiative began two years ago -- live high-definition telecasts to theaters around the world. For 77 years, the Met has broadcast Saturday matinees performances to 11 million radio listeners in 42 countries. But, strangely, the Met actually has to pay many of the radio stations around the world to carry the broadcasts -- fees that amount to millions of dollars annually. (The irony of non-profit radio –- the Met owns the content, but has to pay to have its content broadcast!) Fortunately these radio broadcast costs have been underwritten by major corporate contributors (originally and for many years Texaco; for the last two years Toll Brothers, foundations and others).

With television, however, the economics are different from radio. The new HD telecasts cost on the order of $1 million each to produce and televise worldwide. They are shown in movie theaters that are equipped with satellite links and high definition projectors. But unlike radio, it's the the viewers who pay for the privilege of watching.

In the first season, 2006-07, six operas were telecast to about 325,000 viewers (these numbers include encore, non-live, repeat telecasts). This past season, eight operas were watched by 920,000 people in 23 countries who paid an average of $22 each. The Met splits the receipsix operas were telecast to about 325,000 viewers. Next year, eleven operas will be televised to an even larger number of screens and viewers.

The benefits of this initiative are potentially dramatic, for several reasons. First, revenues just about covered costs in the 2007-08 season; next year revenues should easily exceed costs, and thus become a contributor to the bottom line. Second, it is a terrific source of audience development. After just two years, more people now watch the Met Opera in movie theaters that in the opera house itself (around 850,000). Presumably many of the attendees will graduate from watching the opera in a movie theater to experiencing it at the Metropolitan Opera House. And finally, the HD program is public relations bonanza. The performances are covered by the local media in cities around the world as if the operas were actually held in those locales. The press clip file of the Met now has grown from magazine thickness to that of a telephone book.

The experience of watching an HD live telecast of the Met Opera is remarkable. In many ways it is an improvement over seeing the opera in person. Heresy? No, not really. To start with, the close-ups of the singers on the screen are simply not available in the opera house. Also unique are the live interviews with the performers during intermissions; many are caught just as the curtain falls and they head backstage. Or they're interviewed in their dressing rooms. And the specially produced documentaries shown during intermission -– for example, how the opera was rehearsed -– are insightful. Moreover, the high-definition images, color, and sound are all at the highest level. (Well, almost always. There have been times when the theater's equipment crashed, or went out of adjustment, or whatever. But, hey, they're still early on the learning curve.). Oh, and a final note of differentiation -- you can munch popcorn during the performance.

By the way, even though the telecasts are shown a month or so later on PBS, there is simply no comparison between seeing them in the theater and on a home TV system -- the giant screen imparts a totally different experience.

Needless to say, the Met's HD telecasts have been so successful that they have attracted competition. Already, La Scala and the San Francisco Opera have begun transmitting a limited number of their productions to theaters -- but
not
live. Their results so far have been dismal. A recent showing of a San Francisco Opera telecast in a New York theater had three people in the audience. By contrast, the Met's theaters are mostly sold out, and many of the theaters have added additional screens to accommodate the crowds.

The HD telecasts have created a salutary byproduct. It may be my imagination, or it may be real, but the singers at the Met, both male and female, seem to be getting slimmer. It's one thing to be a plus-size on the stage, but having one's one's image projected around the world on forty-foot-wide screens makes even the most confident superstar head for the gym.


Measures of success


Well, it's been two years now since the Met embarked on its new initiatives. What are the results? Here are three measures of success: box office, sell-outs, and subscription rates.


Box office improving strongly
The box office results for the last two years showed a dramatic improvement, rising seven points to 84% in 2006-07 and a further four points to 88% last year (maroon bars). Because each percentage point translates into roughly $1 million of revenue, the uplift to the Met bottom line is meaningful.

(These box office figures are for percentage of total
dollar
capacity. The actual number of seats filled is about six percentage points higher, or very close to 100% capacity. At every performance there are some discount seats and complimentary seats.)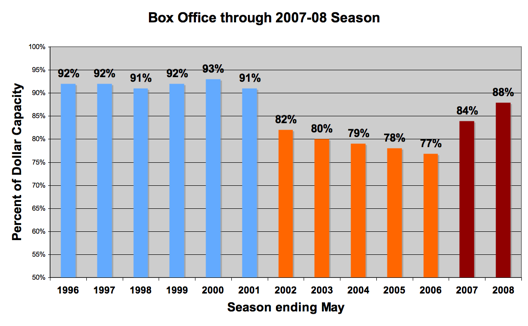 Sell-outs increasing rapidly


The second measure of success can be seen in the chart below on sold-out houses. After year-by-year declines earlier in the decade, sell-outs fell to a low of 10% in 2005-06. But just two years later, 58% of the season's performances sold out.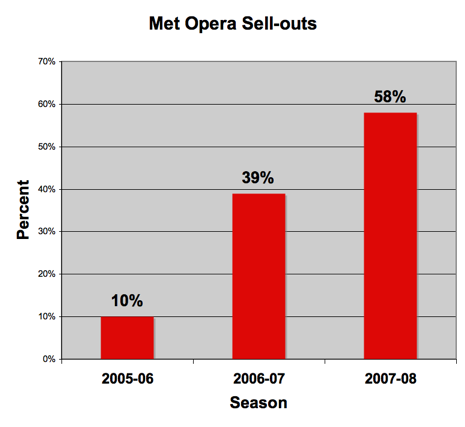 Besides the revenue impact of selling out the house, there are other important benefits. Sell-outs create buzz and excitement. It stimulates both the performers and the audience to see every seat in the house occupied. Sell-outs add to pricing strength. And, of course, everyone wants to go to a show that he can't get tickets to. Finally, sell-outs are a boon for selling subscriptions and for increasing philanthropy. For a number of years, when you could buy a ticket for just about any performance at any time, there was diminished incentive to subscribe or to make a donation. That's no longer the case; if you don't have a subscription, you may not have a chance to see the show you want. And now, these pressures increase the likelihood of donations in the hopes of getting better seats or subscriptions.


Subscriptions growing


In the early years of the decade, the number of full-series subscribers were diminishing. Because of little incentive to subscribe – tickets were freely available last minute – subscription levels declined every year (orange bars). That all changed in 2006-07, when subscription levels stopped dropping. Then, in 2007-08, full-series subscriptions rose 12.6% (maroon bar). Few other cultural organizations have shown that much growth in subscriptions in recent years, and fewer still double-digit growth.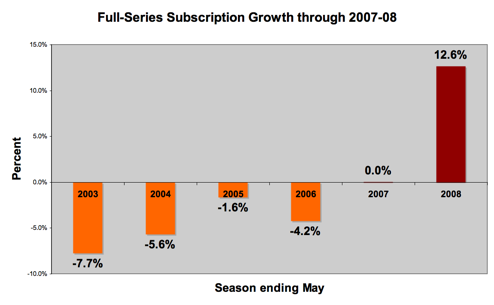 Case Study Conclusion: The Battleship Has Turned


There seems to be enough data now to demonstrate that the Battleship Met has indeed turned around. Just two years ago, every indicator for the Met Opera was pointing down. And now they're all pointing up -- attendance, subscriptions, sellouts, philanthropy. And if one looks at that ephemeral quality associated with success -- buzz -- the Met now has it again. In fact, the Met has become
the
hot cultural ticket in town.

Yes, it's costing more money to effect these changes, but the increases in revenues -- from philanthropy, box office, and telecasts – are likely to offset these costs in the future.

Even though opera is an anachronism, a centuries-old art form replete with some of the creakiest plots imaginable, in 2008 opera – at least the Met Opera-- is where the action is. The Met has begun a new act. Who woulda thunk it?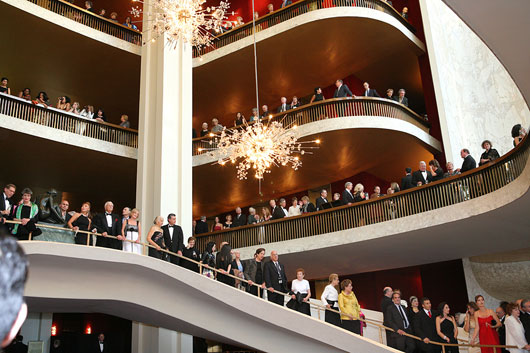 Opening night at the Met, 2007-08 season