Thinking of traveling to London? Now's not a bad time. The pound is down from $2.10 during our last trip to "only" $1.73 today. As a result, prices have dropped from out-of-sight to merely jaw-dropping. But the weather's perfect, the art and theatre scenes are lively, and you'd never know a worldwide financial crisis is enveloping us. Somehow, the looming trickle-down poverty hasn't yet trickled down from the world of the Masters of the Universe to the ordinary restaurants, hotels and entertainment venues. London streets are jammed, the energy is high, and life goes on. So we're here to take to take it all in, including a bunch of plays and a lot of art.



THE ART SCENE


We started off with the Tates –Britain and Modern. At the former, the annual
Turner Prize
finalists had their work on display. The short list this year is made up of works of four British artists under 50. As in previous years, I left the display shaking my head, not in appreciation of the art, but in wonderment – what is this stuff?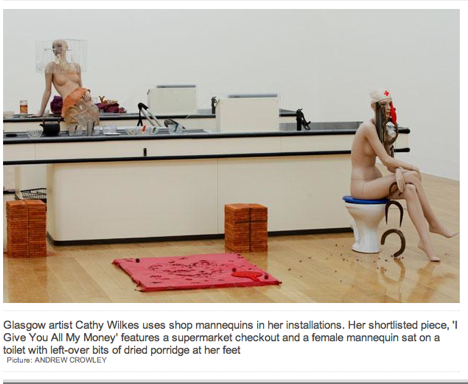 But rather than my articulating what is really a rank amateur's opinion, here are appraisals from the British art critics:


To spend time in this show is like spending the afternoon in the departure lounges of Heathrow, Schiphol, Tempelhof and Charles de Gaulle airports. Physically you've moved from place to place, but, at the end of the day, you don't know where you've been. (Richard Dorment,
Telegraph
)


The annual frenzy of entrail-throwing that is the Turner Prize.
(Charles Darwent,
Independent
)
If ever you were thinking of giving the Turner Prize a miss, not rushing down to the show at Tate Britain, not tuning into the televised ceremony, then 2008 is the ideal year. (Laura Cumming,
Observer
)
Some years ago, Art Buchwald wrote an unforgettable column on the breaking of the "four-minute Louvre" record. Written on the 40th anniversary of Roger Bannister's breaking the four-minute mile barrier in 1954, Buchwald described how a museum-goer in Paris broke a similarly unattainable speed record for seeing the Louvre. He zipped through the Louvre, that is, the essential Louvre -- Mona Lisa, Winged Victory and Venus de Milo – in less than four minutes! I was reminded of this achievement Monday when I'm sure I shattered all speed records for viewing the Turner Prize exhibition. (An excerpt from Buchwald's very funny column can be seen
here
in his Washington Post obituary.)

The Turner Prize this year was (appropriately?) demoted to the basement of
Tate Britain
. Wending our way upstairs, we took in the stimulating
Francis Bacon
show, allowing us to leave the museum with a better appreciation of British art, historically if not prospectively.

On to
Tate Modern
for the
Rothko
show. As Michelin might say, worth a special detour. The master in a masterful exhibition.

Across the river from the Tate Modern was an installation in the Thames of a floating artwork by our good friend from Louisiana and New York,
Margaret Evangeline
. Her piece is one of seven works that is part of
Drift 08
, a platform to enhance the London art scene by placing floating works along the river in central London.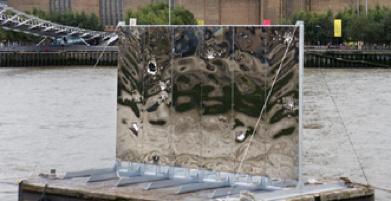 The British Museum special
exhibition of
Hadrian: Empire and Conflict
was a treat. Hadrian, as I'm sure we all remember, reigned from AD 117-138, and ruled an empire that included much of Europe, northern Africa, and the Middle East.

The
Frieze Art Fair
in Regent Park was jammed, economic crisis or no. Surprisingly (to me), lots of painting.

At the new
Saatchi
Gallery
, nary a pickled fish nor jeweled skull in sight. Instead, a surprisingly (to me)
stimulating exhibition of contemporary Chinese art
. One highlight by artists
Sun Yuan and Peng Yu
: a roomful of robotic, wheelchair-bound world-leader likenesses rolling around the floor, never bumping into the museum-goers or into each other. Art meets science meets satire.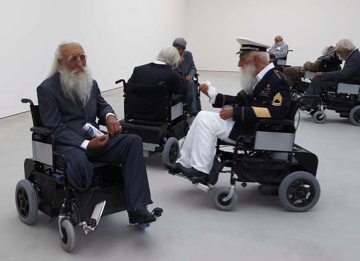 Other galleries
around town benefited from the art collector influx for Frieze.
Spent time at
Waddington, White Cube
and
Alan Cristea,
where a
Julian Opie
show just opened
.
Missed the
Richter
show at the
Serpentine
– had to save something for next time.


THE THEATRE SCENE

Although we live in New York just a few blocks from the Broadway theater district, and attend shows frequently, we feel this compulsion twice a year to fly to London to soak in the British theatre scene. Some reflections:


Acting
: They do act well. Almost universally, even in the less than first-rate shows, the professionalism of the acting is striking. We're constantly impressed by their diction and projection. (The latter quality is so often missing in the U.S. when film stars are on Broadway.) Maybe it's because so many of the British actors train at RADA (Royal Academy of Dramatic Arts) instead of film or television, maybe it's because so many of their résumés are larded with Shakespearean roles, maybe it's because theatre is their first profession rather than their fill-in, maybe it's because they have such great accents, or maybe it's just because we're Anglophiles. Whatever the reason, it's rare that we don't remark at the end of a play how outstandingly the lead actors and the ensemble performed.


Sound
: Guess what? Amplified sound is
not
alive and well in London. Indeed, we've yet to hear an amplified voice in a straight dramatic show this week. On Broadway, where almost every show uses body mikes on the actors, the actors' voices emanate from loudspeakers placed around the theater. Here, the sounds emanate from the actors' mouths. How refreshing!


Ivanov
: Not to be missed. A bravura performance by Kenneth Branagh, one of the finest, most versatile performers of our time. Tom Stoppard has adapted the Chekhov classic in a gripping, entertaining version. The large ensemble is universally terrific.


Creditors
: Moving along from 19
th
-century Russia to 19
th
-century Sweden, this Strindberg play grips from start to finish. Whether focusing on the weaknesses of Chekhov's characters or the flaws of Strindberg's, these two plays go far to examine – painfully – the human condition. (BTW, the title "Creditors" is not related to the current credit crunch -- it refers to emotional, not financial, debts.)


Brief Encounter:
Evoked by the 1945 David Lean movie, which in turn was based on an earlier Noël Coward play, this love story cum music-hall-revue cum farce cum movie misses often, but hits frequently enough to leave you with a smile on your face for most of the evening. Anyway, I'm a sucker for the Purple-Rose-of-Cairo technique of live actors magically dissolving into screen characters, and vice versa. Not a must see show, but not a disaster, either. (Faint praise, but what's wrong with faint praise, anyway?)


Six Characters in Search of an Author:
Pirandello was avant garde when he wrote this play 87 years ago, and it's still avant garde. Almost impossible to describe – something to do with the question of what is real and what is fiction – it has to be experienced in what is a remarkably energetic production.


Now or Later:
Well-reviewed by the London critics, but a rather modest, play about ethical choices facing a U. S. presidential candidate. A candidate who might say different things to different audiences? One who might try to hide family embarrassments? One who would do whatever necessary to get elected? Why, what presumption. I'm shocked, shocked. The British audience loved it. Can it be I'm getting too cynical?


Piaf:
Revival of the "biodrama with music" (not listed as a musical, but it
was
a musical). Remarkable performance by (Argentinean) Elena Roger as the Little Sparrow, who sang all the songs in French, who inhabited Piaf in a stunning emotional display, and who received (what is fortunately unusual in London theatre) a standing O. But, oh, that creaky book.


The Norman Conquests:
Another revival, this one of the wonderful 1973 Alan Ayckbourn comedy, albeit a comedy replete with poignant insights into the never-simple relationships between the sexes. A six-hour trilogy in one day – and it never flagged. Each of the three plays takes place contemporaneously in a different location of the same weekend house. As one reviewer wrote, be careful before you accept an invitation to spend a weekend in the country.